5 Apps For Your Tablet In 2013
Just bought your first tablet, and not too satisfied with the preloaded software and apps that it comes with?
That's the problem with apps, some of them end up being what you've always wanted, but the others are just outright bad.Plus, you never know if your tablet will come preloaded with the apps that you really want- including productivity apps that can be of use in your daily routine and even some fun apps that can help you kill time.
Searching through the lists of the Google Play store and other mobile app stores can be a tedious job, though. To make things easier, here are five apps that we've chosen from across different categories that will be of use to you. These are highly rated and essential apps that can make your tablet more functional and fun to use.
The Top 5 Apps That You Should Have
This list is not restricted to just free apps, so you'll have to pay to use some of the apps listed below. Some apps are available for multiple platforms, but the list primarily features apps that are available on Google Play.
Productivity Apps:
When you are searching for apps to install on your tablet, you're likely to first look for apps that make the device useful for some serious and productive work. This might include taking and sharing notes, editing office documents, and keeping track of business contacts.
Evernote-The Best Note Taking and Sharing App:
Evernote is a neat app that lets you take quick notes, create small documents, and make them available across all your devices. The app syncs your notes with the storage space it provides online and in this way, makes them available wherever you are.
You can create notes on your tablet, sync them, and log in to your Evernote account through your PC to access these notes. Not only is this app neat (with an easily usable layout), it is also free!
Download Evernote from Google Play.
Also Read: 12 Most Useful Exercise Apps To Weight Loss 
Quickoffice Pro:
When it comes to apps that enhance productivity, almost everyone looks for a good office suite first. The extremely popular Microsoft Office is not yet readily available on tablets, so it's ideal to look for alternatives to this software. There are quite a few choices in this range, includingKingsoft Office and Polaris Office.
But Quickoffice Pro gets the most number of votes and the best reviews among the lot.This office suite provides a lot of advanced features, as it allows you to edit Microsoft Office Documents (Word, Excel,and PowerPoint), across all formats, including Office 97 to Office 2007 formats.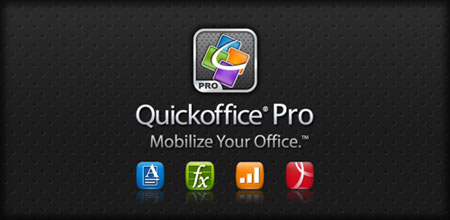 Quickoffice Pro HD allows you to share documents using Egnyte and access file sharing and note taking apps like Evernote, DropBox, and Google Drive. This office suite also allows users to create notes and add markups in PDF files.
Also Read: 5 Best Free Green Apps
You can create documents with Quickword, spreadsheets with Quicksheet, and create presentations with Quickpoint. The app also allows you to access the documents and presentations that you have created using Microsoft Office and view or edit them on your tablet using this app. It is one of the best productivity apps available for tablets, and costs around INR 1085 on Google Play.
Download Quickoffice Pro HD from Google Play
CamCard HD Free-BizCard Reader:
Keeping track of contacts can be quite tricky when you're using a tablet or smartphone, both for your personal and professional needs. There are quite a lot of contact managers and organizers available in Google Play and they do a great job of maintaining a database of contacts and providing easy access to such information.
But picture this – how do you skip the hassle of updating your phone with the contact details of all the business cards that you collect?
Most professionals are sure to have a stack of business cards that they might have acquired over a period of time. People usually stash these away somewhere when their wallet fills up and forget about them. But these cards can hold crucial of people who provide important services. If you are fan to travel different destination,  you can check Trip Advisor Android App to knw all popular destination.
With CamCard HD Free-BizCard Reader, you can take a picture of the business card once you get one, and then open it with the app. The app does a neat job of character recognition, and takes the vital contact information and saves it to your address book.
The card images are neatly organized in this app and you can flip through the cards as you would in a physical card organizer. With this app, you don't have to worry about losing track of an important contact again.
You can create an account at CamCard and synchronize the stored info across your devices so that you can access them anywhere, through cloud storage.The free version is ad-supported, and the paid version costs around INR 431.
Download CamCard HD Free from Google Play.
Apps For Kids:
Tablets are not just for adults, they can also be helpful for kids!
More and more kids are being introduced to the world of tablets, and with their intelligence, they take to high tech gadgets like a fish to water. Apart from using your tab for business purposes, you can even teach your kid a thing or two using one of the many popular apps out there.
Tracing ABC Free:
The next time your 3 year old kid teaches you how to play a new game properly, show her how she can use your tablet to teach herself the English alphabet.
Trace ABC is a great app that helps children quickly learn the English alphabet, and even numbers and shapes. It lets them do what they love to do – squiggle. They can trace uppercase or lowercase letters, numbers, shapes, and even small words.
The screen initially shows a transparent letter with a green star indicating the starting point. The child has to trace the letter's shape from that point. The path is indicated by yellow stars that fade out as the child's finger gets near them.
This app provides an interesting way for children to learn to trace the shapes of letters and numbers. There is a full version available with more options. It costs INR 110 on the Google Play store.
Download Tracing ABC: Letter Worksheets app from Google Play
Entertainment Apps:
Do you watch movies or TV shows on your tablet? There are many apps that allow you to play all types of media on your tablet and easily browse through your entire movie or music collection.
MX Player:
This is a great video playing app for your tablet. It has a fine set of features like pinch to zoom, swipe to adjust brightness and volume, and a screen locking option during video playback. It supports many video and subtitle formats as well.
The ad-free version, MX Player Pro costs INR 320 on Google Play.
Download MX Player Android app from Google Play
There are a lot of highly useful apps available for tablets, and you just have to search for the right ones and install them. Subscribe to the newsfeeds that you are interested in using Pulse, use DropBox to synchronize your files and documents across many devices, and unwind by playing a game of Subway Surf.
If you are a gamer, the Game Informer app gives you access to content from the game Informer magazine. The app is free, so you can download and install this as well. With the right set of apps, you can customize your phone and ensure that it works just the way you want it to.
 Author Bio:
 My name is Arjun Gandivardhan. I write for tabletguide.in, a blog that focus on the latest trends in Tablets including Apps. 
 If you like this post, please leave a comment or subscribe this blog via RSS. For more updates Follow us on Twitter and Like us on Facebook.